I went to Dubai a few days ago and it was a great day trip! It is Eid and I have been off from work for the past 4 days! We visited the Mall of the Emirates first and them the Dubai Mall, which is the largest mall in the world. All I know is, we were only able to see the first freakin floor of this mall because it is sooo huge. You cannot do it all in one day and call yourself shopping too. This mall has every high end store you can name. This mall requires 3 maybe 4 trips to actually see it all. It has three levels. I nearly lost my mind as I am a self diagnosed shopaholic (yall pray for me). There was Gucci, Prada, Tiffany, BCBG, Rolex, Christian Louboutin, Louis Vouiton, Chanel, Armani, Burberry, Ralph Lauren, Hermes, Marc Jacobs, Coach, Baby Phat, Nine West, Juicy Couture, and the whole shabang of all the other designers you can think of. Talk about restraint. Lawd! I had to reason with myself several times. No, you may not spend your whole check on a pair of Christian Louboutin shoes no matter how fabulous they are!! No, you may not buy a $900 purse at this time. No, you may not buy the smoking hot Gucci boots you have been dying to buy since Day One that cost $1,620 USD! God help me!
I'm glad I got out of there with my bank account still in tact. Of course, I bought a few things from normal stores like Gap and H&M. I know my limits. I'm not ready. LOL!
The architecture of Dubai is even more stunning than Abu Dhabi and the skyline is fascinating. I will be back in Dubai on November 9 to run the Dubai Women's 5K so I will take more pictures...with a real camera. You know, the kind grown folk use. I have been the phone photographer so far. Don't judge me.
Aquarium inside Dubai Mall




The Burj Khalifa...tallest building in the world...

is the tallest man made structure in the world, at 829.8 meters (2,717 feet)!!
Dubai!!
That brown says The Dubai Mall...Don't ask me what the rest of that Arabic print says...LOL!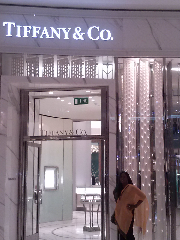 Maybe one day I'll go in and actually buy something...hmm
Burj Khalifa...see you soon!!